News & Events
Welcome to the news and events page. Check out all of our upcoming news and events listed below:
Not all T-shirts are Created Equal
Our Love affair with the Tee: Can you imagine your wardrobe without a T-shirt? It used to be T-shirts were just underwear, but research shows that the T-shirt has now become the ultimate accessory. Its simplistic style and lack of a bulky collar allow it to go well with anything, from a suit to a leather jacket to overalls. People today, often use the tee as a way to update their wardrobes inexpensively. In our world, it's not difficult to understand then, why T-shirts are one of the best ways to get your name in front of your target audience. A good quality promotional T-shirt will be worn for years and seen by hundreds of people. They come in a rainbow of colors. Some tees have pockets and others don't. Of course, each T-shirt needs to be customized with your logo on it. The key is to be creative. Select a T-shirt that will stand out and not be thrown away or donated to Goodwill. In order to do that, you must first know your audience. Will your audience be both men and women? If so, don't give the women an over-sized men's T-shirt! Although men still want the comfortable, loose fit, women are looking more and more for the fitted, classic and relaxed styles. A woman's shirt needs to be designed with the curves of the female form in mind. The shirts also come with capped sleeve which aren't long and baggy like a unisex shirt. Consider a V-neck tee as well for both men and ladies tees. For ladies, a V-neck is a nice option regardless of age. For men, V-necks are requested mostly by the 30 and under crowd. Remember, people want shirts that fit, not just a boxy, unisex garment. Although the rage is for retail fashioned T-shirts with softer fabrics and new colors, the demand for the classics, such as 100% cotton, 50/50 cotton/polyester and ringer tees, is still strong. Ringer tees specifically feature a separate color on the collar and around the sleeves, giving an otherwise plain T-shirt a touch of detail. Another great new trend includes the pigment-dyed and garment-washed T-shirts, which over time fade slightly, giving them a vintage-worn look. Tri-blend T-shirts made of polyester, rayon and ringspun cotton are a craze in retail, and rightly so. Although more expensive than your typical 100% cotton T-shirt, they are very soft and comfortable to wear. The fabric content of the tri-blend also makes it possible for new heathered colors. In the end, give your clients something that has a little touch of style, and they will appreciate it and wear it for years to come.
Big, Front and Center??
It's easy to see why the ever-popular T-shirt continues to be in such high demand; versatility that fits almost any promotion. But the versatility of the T-shirt doesn't end here. In fact, it really just begins. You now need to decide
how you will decorate the tee
. It used to be that every T-shirt had a simple screen printed logo; big, front and center. However, just like the T-shirt industry, there has been a revolution in screen printing methods. The distressed look and the retro-athletic look, or "pre-weathered" logo, continue to be popular. However, screen printers are providing other new decorating options that include high-density inks, reflective inks, conductive inks and color-changing inks. How about "puff" ink? Screen printers can combine flat plastisol and "puff" ink to create some exciting three-dimensional images. "3D" printing (puff ink outlines with solid centers) is a technique that greatly enhances your message. Another decorating method that has resurfaced because of advanced technology is heat transfer. Unlike the heat transfers of the past, today's are die cut exactly to the size and shape of the logo as well as around each individual letter of a company's name. They are ideal for designs with tight/small registration and can incorporate any number of colors including 4-color process. Heat transfers can also be applied practically on any part of the garment, such as the shoulder, collar, pocket, etc., creating a fun and new approach to decoration. Needless to say, there is enough variety in screen printing and other decorating methods today, to challenge embroidery when the look is appropriate. Embroidery does, however, continue to be the most popular decorating option on staples such as polos and dressier twill shirts. But why not do something different there too? Does the logo always need to be embroidered on the front left chest? Why not place it on the back yolk, or even on the sleeve's cuff? Try tone-on-tone for a subtle look on more expensive garments. Obviously, the decorating method depends on the type of shirt you have selected. Just remember that with the options out there, you can be creative and really let your message shine. Approach the imprint with the vision that the shirt is a walking billboard for you and your company, and you will turn a basic tee, into a fabulous tee!
Completely Wrapped Up
Finally, you need to ask yourself,
"How can I package and deliver the T-shirt in a unique and creative way?"
In other words, How can I wrap this up? The packaging of a gift can be as exciting to the recipient as the gift itself. Make an impact from the moment the promotion or gift is given. We've all been to sporting events when they have thrown T-shirts into the crowd. They may put an imprinted awareness band or a thick imprinted rubber band around the shirt, or perhaps they have compressed it into an unusual shape. Both methods are very effective and add value to your product.
Point taken – be creative!
If you plan to hand out a T-shirt at an event or tradeshow, consider packaging it with a cap, ultimately banding it together with a colourful imprinted band. If you are delivering shirts directly to your client, polybag the shirt and seal the bag with your imprint, adding a touch of professionalism. In other venues, perhaps use custom hangers, hang tags, functional bags or duffels for packaging the tees. Imprinted ribbon is also an option. How about an outdoor event? Maybe you are hosting a picnic, a walk or an open-air concert. Stuff the tee into a decorated can cooler or plastic mug for an easy-to-distribute gift. All of these ideas add perceived value to your T-shirt, and guarantee that your audience will remember you. Ultimately, your
T-shirt has become a marketing product
, and not just another shirt.
Promotional Products: Impact, Exposure & Influence
A survey conducted by LJ Market Research reveals the power of promotional products by measuring how end users respond to organizations that use promotional products as part of their marketing mix. More than 71 percent of respondents surveyed indicated they had received at least one promotional product in the past 12 months. The study also showed that respondents' ability to recall the name of an advertiser on a promotional product they had received (76 percent) was much better than their ability to recall the name of an advertiser from a print publication they had read in the past week (53.5 percent). Positive Impact On Brand Image Recipients of promotional products have a significantly positive opinion of a business through: • Increase in positive overall image • More positive perception of the business • Higher likelihood of recommending the business • Higher likelihood of patronizing the business Source: PPAI Study: Promotional Products Impact On Brand/Company Image Conducted by Georgia Southern University Advertisers spent more than $18 billion in 2011 on products purchased through promotional consultants.
Promotional Products: Impact, Exposure & Influence
6 Marketing Resolutions for the New Year
Have you made your new year's resolution yet? We don't mean to lose more weight or save more money. Have you made your business new year's resolution yet? You may be planning on going into the new year with plans such to increase sales or stay organized. While these are all good intentioned, as a marketer, you want more for your new year. At the end of 2015, we are spending our days creating new, innovative strategies for our clients. Are you doing the same? Here are 6 marketing resolutions that are becoming prevalent for your business in the new year: Drive Brand Awareness and Engagement – If a blog is written in the woods and no one is there, is it really written? You can spend time making new content all you'd like, but if no one is aware of your brand or presence, the content won't help you accomplish your goals. Focus on creating an audience on relevant channels such as social media and your website. After you have regular traffic to these places, your content will take you much farther. Build interest – Develop a content marketing strategy that is targeted towards your specific marketing personas. What are your key initiatives for the year? Now is the time to get them on paper. If you spend time in the beginning of your program defining the types of content you will create throughout the year, it will make your marketing simple as pie. Drive Return on Investment through Conversion – make sure that your social media content is driving traffic to your website, and not to other websites. While they might have credible information that's great to share, it's not driving traffic to you and therefore is detracting from your conversion rate. Build a media buying strategy – It is increasingly difficult – scratch that, impossible – to build a following on Facebook organically. Because of algorithm changes in the past year or so, posts and company profile pages simply do not appear on timelines anymore unless they are promoted through Facebook ads. Similarly, the pool of options for a Google search result is so packed with people that it's become very difficult to appear on page one. Google withholds certain information (such as keywords that drive traffic to your site) for organic search as well. The solution is to fold a media buying strategy into your digital marketing plan to ensure that you are being seen. Drive Loyalty – After you've made a sale, drive loyalty to your brand through repeat visibility and enagement with customers. Do what you can to ensure that your customer remains with you for years to come. Create brand advocacy – Having a loyal customer is one thing, but having a loyal customer who evangelizes your brand is the ultimate goal. Strive to create and implement programs that give your loyal customers a platform to sing your praises. Some of these ideas and concepts might not be entirely new, but the key is to take an overall strategy for the new year and make it your own. What can you do in 2016 to make these resolutions a success? Leave us a comment below and tell us what your plan for the new year is. Read more at http://www.business2community.com/marketing/6-marketing-resolutions-new-year-01399792#6YSlM3jF1bRo5vmT.99
6 Marketing Resolutions for the New Year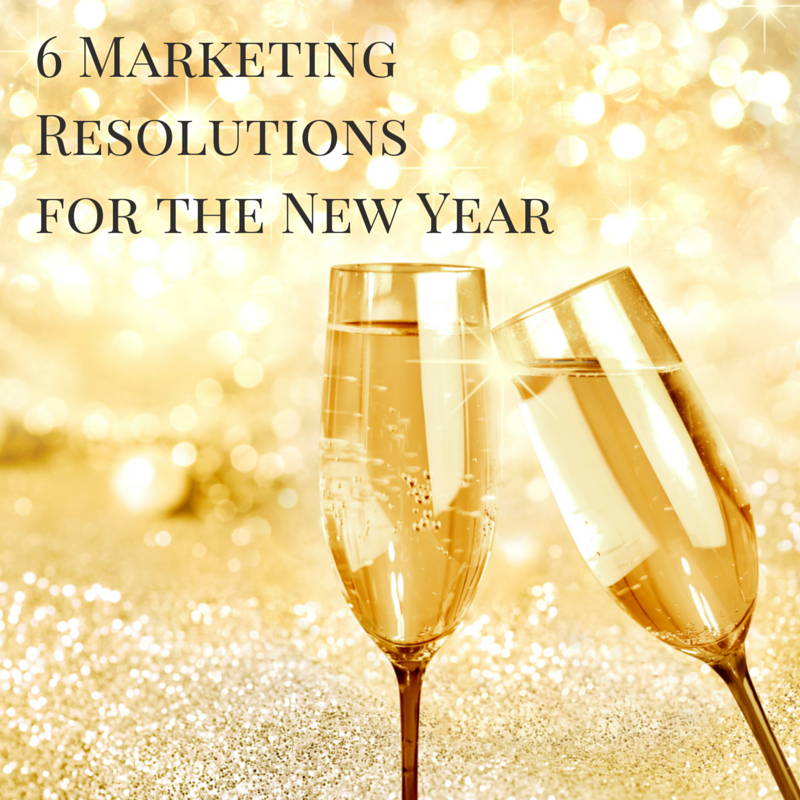 Personalization  - Boosting Egos, Boosting Loyalty and Sales
Carly Simon was right. We are so vain. We love to see our name in print. We usually don't part with things that have our name on them. Instead we keep them, cherish them and rarely throw them away. Putting someone's name on a product increases the chances it will be kept by the recipient. Therefore, personalization is a significant trend in the promotional market today. Companies are realizing its remarkable power to reach people and are giving personalized promotional items to employees, clients, and prospects. Giving a personalized gift is an extra special way of showing gratitude or appreciation to a person. It shows that you have taken extra time to create something unique. With the help of new technology, personalization is much more than a simple engraved name on a pen. From apparel to watches and leather portfolios, personalization is now a feasible and affordable option. It can be done easier, faster and more complete than ever before. Blankets, sweaters and golf towels can even have names woven right into the pattern. This is done as part of the production process, and does not require post-production embroidery. Another possibility is to reproduce a photograph onto a blanket, capturing an important moment in a person's life, or an image from a special event. The photos are digitally scanned, and a computer translates them into a knitting pattern. Amazing. As you could guess, the key to personalizing a gift is accuracy and attention to detail. An error in a personalized product is more noticeable and can even be counterproductive. But despite the extra detail work necessary, a lot of the hassles formerly associated with personalization have diminished thanks to computerization and software. When a product is personalized, the message you're trying to deliver is enhanced even further. That message may be a thank you, a gesture of appreciation or a sign that you recognize the recipient for who he is and how he'd helped your business. You just need to know who your individual customers and employees are. Then get personal! Use that personal information to strengthen your relationship. That's the whole idea behind personalization - enhancing customer and employee relationships. The fact of the matter is, if pleasing clients and employees is at the top of your company's to-do list, you can't afford to overlook a tool like personalization. Promotional Possibilities: There are all sorts of promotional possibilities when it comes to personalization. Below are a few. 1) Sales Incentive Programs. Salespeople love to see their names in print. Adding personalization along with the company logo lends credibility to their position and makes them feel part of the company they represent. 2) Employee Recognition. Personalized products given to employees as service or safety awards, holiday/thank-you gifts, etc. can boost that person's connection to their company and make them feel their hard work has been appreciated and acknowledged. A little goes a long way. Companies that nurture a strong relationship with their workers are going to have employees who are motivated, dedicated and loyal. 3) Business Gifts. After her first year in business, counselor Wendy Vaughn hand-delivered to every client a pen laser-engraved with the company logo and recipients name, packaged in an aluminum tube. Vaughan also told clients to call her for refills, which let her know who kept and used the pens. 4) Trade-Show Promotions. You might think promoting a trade show with personalization would be a poor idea. Nope. Kosub had a client who didn't want a lot of tire-kickers at its booth at a high-tech show; he had a carefully developed list of prospects. He devised a pre-show mailing sending those folks just the cap of a personalized high-end pen. The body could be picked up at the booth. Did it work? The firm got a 30% response rate.